Discover more from SLANT LETTER
Writing craft and soul care for the creative life for writers like you, from your friendly editor in book publishing.
Over 7,000 subscribers
Kicking off this letter with some personal news and I won't bury the lede—we are now a family of four! 
Soren Wilder Smith joined us with the sunrise on May 31st—one week early (and still nine pounds!) but just on time. He was supposed to be a June baby, but my working theory is he favored an emerald birthstone instead of pearl, and I respect it. All is well.
As a family with a history of pregnancy loss, he lived in our hopes then our imaginations for so long. How astonishing to have finally found each other on the other side of the great beautiful terrible that ushers the living from the elsewhere into the here and now. 
On that other side, we made contact—eye to eye, skin to skin. Here is encounter. Here is contact. Here is communion. All is well.
Special thanks to my birth partner and life partner Zach who kept me steady, our midwife who trusted the wisdom of my body, our parents for helping us care for Quinn in the thick of her greatest change yet, and the smoke-him-out Thai chilis from our favorite drunken noodle spot that clearly does not play. 
Thanks for reading SLANT LETTER! Subscribe for free to receive new posts and support my work.
Postpartum is always one hundred shades of hard, tender, and gorgeous, and that's where I'm at precisely. Our two-year-old is an all-heart empath (her favorite ice-breaker: "How is your heart feeling?") whose world has been wholly upended, and we're all finding our footing in the new. Soren is an old-soul gentle giant who clasps his hands while he sleeps, clearly deep in existential meditation not unlike his fellow name-bearer Kierkegaard. And we are in thick of the parenting transition from one to two.
I've said it before and I stand by it now: relationships (right now for me, children ) are the greatest disruption to ever grace my life. Oh, the disruption. Oh, the grace. We receive it all, even if we do so fumbling.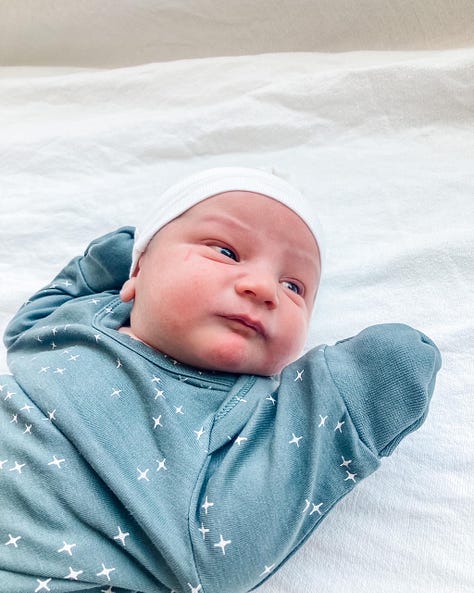 (An aside: This letter is what we make it. Should we get more personal here? Y/N. Comment below or hit reply!) 
So while I am solidly housebound at the moment, I was out and about the past few months on the wild web and sending a couple links for you to enjoy.
First, a personal essay: "Lament for a Tree"
I love everything
is doing at
Mothering Spirit
, and was glad to be asked to contribute
this personal essay
, which is about holding the wholeness of our stories like tree rings, and reckoning with resurrection when it doesn't feel relatable to where we are. 
It was a morning like any other, except for the chainsaws. They started early—before my two-year-old was even up—and continued on well past her afternoon nap…
Click here to read the rest.
"What Will Make Me A Better Writer?" A podcast conversation with Manda Carpenter
Loved this conversation with
on her podcast A Longer Table! We talked about the distinctions between voice and angle, the best thing you can do to level up your writing, and more. Here's a brief excerpt.
On setting expectations for publishing:
"Name what it would take to be proud of yourself at the end of the publishing process. Be as specific as you can about that so that when time goes by, you can know with confidence that you did everything you intended to do. You can't control the outcomes, but you can control your investment. It's an expectation-setting practice to ask: what do I want and why? Also level with yourself about what it will cost in your time, the shape of your life, your expenses, your mental and emotional space and energy. Often I see a mismatch between what writers are willing to invest—and a reality check on what it will cost them—and high hopes. So really level with yourself about the distance between those two things." 
"Make Your Boldest Statement" A podcast conversation with Hungry Authors
Liz Morrow and Ariel Curry are industry experts who believe you don't need a large platform to publish a book; all you need is the hunger and a great plan. In this conversation, we covered: 
The question of medium for your message—is this a book or something else? 

A simple practice for getting to the guts of your message. 

One of my favorite stories of a book that had everything going against it platform-wise, and everything going for it writing-wise, and why it worked.

The differences and unique gifts of writing for self-expression and writing for a readership. 
On the subjectivities of taste that influence every proposal review:
"Take a glance down any bestseller list. Some of them will be for you and some of them will be absolutely not your cup of coffee. Those personal preferences and leanings and subjectivities—taste, style, voice, topic—they play into our review, editor to editor, team member to member, pub board to pub board. There's a lot of people at that table and they all come to it with their own set of subjectivities."
On reframing self-promotion:
"If [your message] matters so much to you in the first place, it's not worth getting weird about the gift of extending that to other people. I fully understand and empathize with the weirdness and the ways we get squirmy around self-promotion, but you will never hear me promoting self-promotion. The most authentic promotion of your work is not about promoting you at all, but about the universal insights to the human experience that your work represents. If you've written something that's meaningful to you, chances are will be meaningful to others, and that's a gift…You can style how you market your writing just as much as you style your voice in the actual writing." 
Friends, thanks for being here. I'm on maternity leave through the summer but I'll still be here for our monthly letter, with a few guests joining me. Happy reading, listening, summering, and honoring your own shades of hard, tender, and gorgeous.
Until next time,
Take heart. Write on. You got this.
Thanks for reading SLANT LETTER! Subscribe for free to receive new posts and support my work.