Discover more from SLANT LETTER
Writing craft and soul care for the creative life for writers like you, from your friendly editor in book publishing.
Over 7,000 subscribers
SLANT LETTER: The Power of Naming in Writing

---
Naming, Belonging, and Why It Matters in Writing

As C.S. Lewis famously wrote, "We read to know we're not alone." Similarly, I believe we read to remember that we are named. We're all grasping to find a place of belonging, and reading gives us that safe anchor in a shifting universe. Story helps us remember and reclaim our names, and that is where we discover anew—with great relief—that we belong.
Madeleine L'Engle's take on this can't be beat: "Stories are able to help us become more whole, to become Named. And Naming is one of the impulses behind all art; to give a name to the cosmos we see despite the chaos."

As writers, this is your power and your privilege: to help us remember our boundless belonging, to help us become more Named [tweet this]. Here's a few things I've learned about tapping into this powerful practice.
Naming our fears and emotions for what they are equips us with courage.
Is there anything more frightening than the unknown? When we don't know what we're dealing with, it seems so uncontainably vast and outside of our control.

But when we are able to name our fears and our emotions, we limit their scope and they become less daunting. This is the bright balm writers can offer to readers: the assurance of distilling all those unknown shadows down to a single source we can understand. And that understanding can lead us into courageous action.
This ability is at the heart of emotional intelligence. When we don't know how to name our emotions, all that energy gets pent up and bursts out in unexpected and often self-destructive ways. But when we can name our anger, our fear, our envy, resentment, or uncertainty, it gives all that energy a place to belong.
That's the power of naming: it resources us with the clarity, and then the courage, we need most to face our fears [tweet this]. And that's when the writing gets good.

Naming, and learning each other's names, dignifies and sanctifies.
When someone uses our name in conversation, we instinctively feel seen, heard, and valued. And because this is functionally unnecessary, to do so becomes an act of generosity. By its very nature, naming affirms our inherent human dignity.
In literature as in life, to call someone by name is to acknowledge that they are a unique individual with a sacred history and an unfolding story.
Think about your favorite characters in your favorite stories, how you cheer them on even as you recognize their complexities. Naming gives us a way to bear witness to each other as whole human beings; complexities and all. And if we can do that, perhaps we can give ourselves grace to be our own sliding grayscale mix of complexities as well.
We often talk about writing as truth-telling, but I also believe it's more personal than that. Writing not only gives us the ability to name our realities, it invites us to learn each other's names [tweet this]. It openly recognizes, Perhaps you have seen some things, walked some ways, that I have not. I respect that and would like to learn from you.
This is especially important to counter the culture of words that deform us, that belittle, toxic words that push us into toxic incarnation. Naming is nothing less than an act of resistance in a culture of labels and stereotypes that strip us of our shared humanity [tweet this]. Labels are lazy, because they are imaginatively bankrupt. Labels are reactively applied, where names are compassionately learned. Labels peg people in order to dismiss them, where names dignify the unknowable mystery we all carry.
I think of stringent lawkeeper Inspector Javert in Les Miserables who is blind to Jean Val Jean's humanity and developing character arc so long as he reduces him to his prisoner ID: 24601. Think of the flippant dismissal we are so quick to activate as we assign people to rival social groups and tribes.
Yet human beings, in all their sacred history and unfolding character arcs, can never be reduced to crude math. So let's take the time to learn each other's names.
Naming inspires us to rise into our best becoming.
Studies show that if you surround yourself with people who tell you you're awesome and talented and strong and kind, that's likely what you'll be. Sometimes it's as simple as saying, "Wow, you're an amazing singer," or, "That was a kind thing to do." I know a woman whose policy is to leave every personal conversation having named something true and good about the other person, and I love that.
As writers, you have the opportunity to speak into people's lives and call them into their best becoming. Writing, and naming, is incarnational in this way: a word becomes flesh in our becoming. Naming something that is true about ourselves strengthens us to lay claim to the identity we've already been given.
So name your readers with kindness, name them with courage, name them with grit and grace, because they will believe you. And their stories will take new shape as a result [tweet this].
To once again call upon Madeleine L'Engle, "To love is to call by name and so open the wide gates of creativity" [tweet this]. In your writing, today and into the days ahead, may you do just that. May you generously learn the names of others, and find creativity opened wide to you as you open wide the invitation to belong to others.

Take heart. Write on. You got this.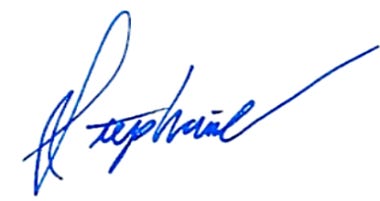 P.S. // A Prayer for Writers
SLANT LETTER is for the craft and soul of what you do as a writer. So for each issue, I want to focus on an element of the craft as well as a prayer for all of us anxious, ambitious, internet-exhausted writing folk. I hope this will refresh you as it does for me. Read it, print it, share it, whatever you like.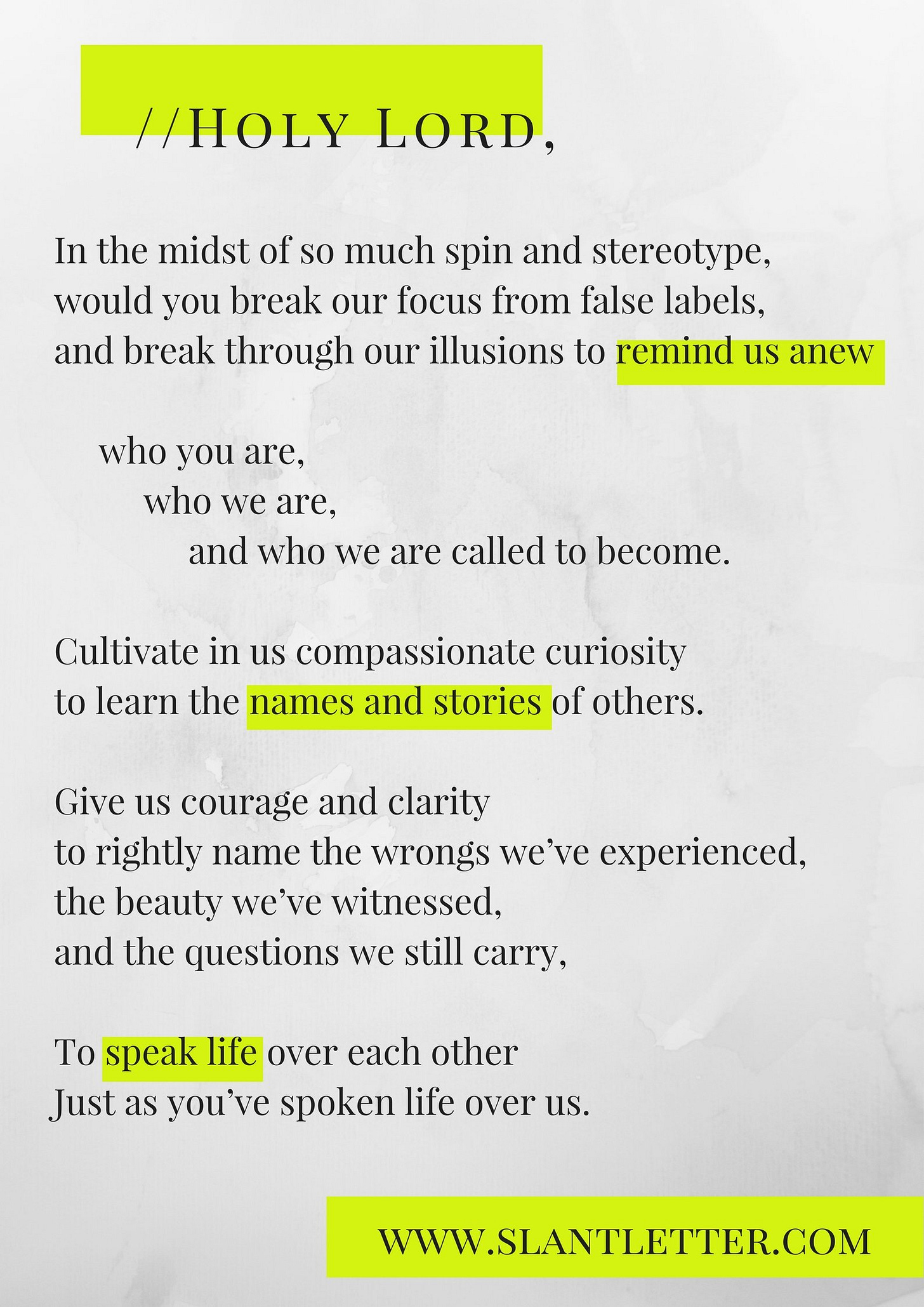 Let's Connect!


Question for you.
Find a good thing here? Pass it on! Forward this message to a writer friend
or share the subscribe link here.