Discover more from SLANT LETTER
Writing craft and soul care for the creative life for writers like you, from your friendly editor in book publishing.
Over 7,000 subscribers
SLANT LETTER: Master the Art of Making Connections 

---
Constellations, Kaleidoscopes & the Art of Making Connections
Writers are famously after one thing: we all want that flash-of-brilliance lightbulb moment, right? The epiphany. The aha moment. "This is it!"

So I'm afraid it is here where we run into good news and bad news. Let's break the bad first, shall we? Dear brilliant, big-hearted, beautiful creative friend, there is no such thing as a purely original idea. Believing this myth is a very good way to disqualify yourself from the work before you ever begin, and a very good way to blame your muse for calling in sick again (that slacker). But it is a very bad way to get to work.

The ancient wisdom writer Solomon was right—there is nothing new under the sun. There is no creating from scratch, lightning-flash style, ex nihilo. This is not motivating stuff for writers, I know.

Now, quick, the good news as chaser: so you can't author an original idea out of the void, but you can make new connections between existing ideas. Creativity is not about inventing something from nothing; creativity is about becoming a master of remix [tweet this].

What a relief! It's not actually to us to come up with never-seen-before notions and concepts, so go ahead and unsaddle yourself from that impossible expectation right now. Rather, it's up to us to become expert connectors, penning new pathways, patterns, and relationships between ideas that have been there all the while. This is writing at its best.
Constellations Out of Chaos

In our last issue, we talked about the power of paying attention. Scouting for neon, engaging your senses, saving the scraps, reading widely and deeply—all of these will make for a richly well-stocked idea library (see: Sherlock's mind palace). Life offers up to us this generous confluence of details, ideas, impressions, and all these scraps and snippets become your creative palette. In this way, paying attention is the work before the work.

I love how Maria Popova, the mastermind behind Brain Pickings, describes it: "In order for us to truly create and contribute to the world, we have to be able to connect countless dots, to cross-pollinate ideas from a wealth of disciplines, to combine and recombine these pieces and build new castles."

First, the writer collects her raw material. Then comes the fun part: she connects the dots to create constellations out of the chaos [tweet this].

And make no mistake—when you toss all your scraps up onto that whiteboard or notebook or kitchen table, it will be chaos. But what at first blush appears to be a problem is actually a very good start.

Become a Kaleidoscope Thinker

It's telling for us that the inventor of the lightbulb himself never experienced that iconic "eureka!" lightbulb moment of his own, at least not in a vacuum. To the contrary, Thomas Edison's idea library was vast—Edison and his lab produced an estimated 2,500 notebooks in his lifetime full of notes, sketches, and diagrams. All his inventions started here.

This golden age inventor had a fascinating practice of making connections. In Edison's journals, he wrote that when he got stumped on something, or curious, he would take his subject and "put it into the kaleidoscope" to try on new perspectives and explore its true colors.

His biographers call it "kaleidoscope thinking," Edison's way of combining subjects of intrigue, letting them converge, and considering them afresh from new angles.

As we engage the writing process, we can do the same.

What's in your notebook right now? What moment, question, imperial detail is circling in your brain? Review your own creative inventory, your palette. Step up to the kaleidoscope and turn the knob. Look for patterns, unlikely kinships, constellations. And most of all, let yourself be surprised.

Here are a few more practices to spark this process:

Get visual // Whenever I get stuck with a project, I print it out. Sometimes handwriting can get you places typing can't. Punch up post-it notes or index cards and take over the dining room table or the closet door. Grab a fresh sheet of paper and make a mind map. Scribble profusely and without apology. Don't question yourself as you work—draw arrows, rearrange, highlight, crumple up and write anew.

Get moving // Take a shower. Walk the dog. Chop cilantro. Do something kinetic and on your feet (and far, far away from screens!) so your mind can wander free and do the work for you. Be patient, be open, listen, and let yourself come back fresh later, trusting that your brain has been doing the heavy-lifting even when you're not aware of it (be assured: it has).

Scout for the Subtext // Author Zadie Smith writes, "Every moment happens twice: inside and outside, and they are two different histories." This is called subtext, and we find it by bridging connections between these two worlds. Chase it and capture it. One way to do this is to interview your emotions: Why did her words prick you so much? Why did that song reach so deep? Why did that image strike you so? Keep gently asking why. Press on for discovery.

New Connections in the Oldest Human Story

Natalie Goldberg says, "We are all connected. Metaphor knows this and is therefore religious."

Mary Ruefle echoes, "We are all one question, and the best answer seems to be love—a connection between things" [tweet this].

This is where we find the beating heart of creativity: its best efforts come forth out of love. We are all connected, we are not alone, and we are endlessly searching for ways to be reminded of this vital, anchoring truth. In this way, writing can be a powerful act of generous empathy.

So while there is nothing new under the sun, we are in constant desperate need of writers who can find new patterns, forge new connections, in the oldest human story [tweet this].

In the first SLANT LETTER, I defined an angle as your unique slant on how you see the world, written in your unique voice. No one possesses this vantage point quite like you do, which means you have unique access to finding connections the rest of us haven't yet seen.

You can compare, contrast, parallel, combine—there are so many fresh angles to be found! And through which to find each other. There are so many ways to tell it slant. And that, friends, is very good news.

Take heart. Write on. You got this.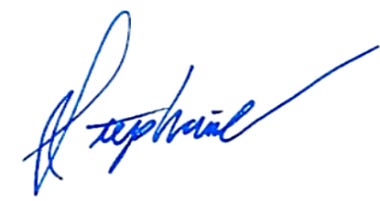 P.S. // A Prayer for Writers
SLANT LETTER is for the craft and soul of what you do as a writer. So for each issue, I want to focus on an element of the craft as well as a prayer for all of us anxious, ambitious, internet-exhausted writing folk. I hope this will refresh you as it does for me. Read it, print it, share it, whatever you like.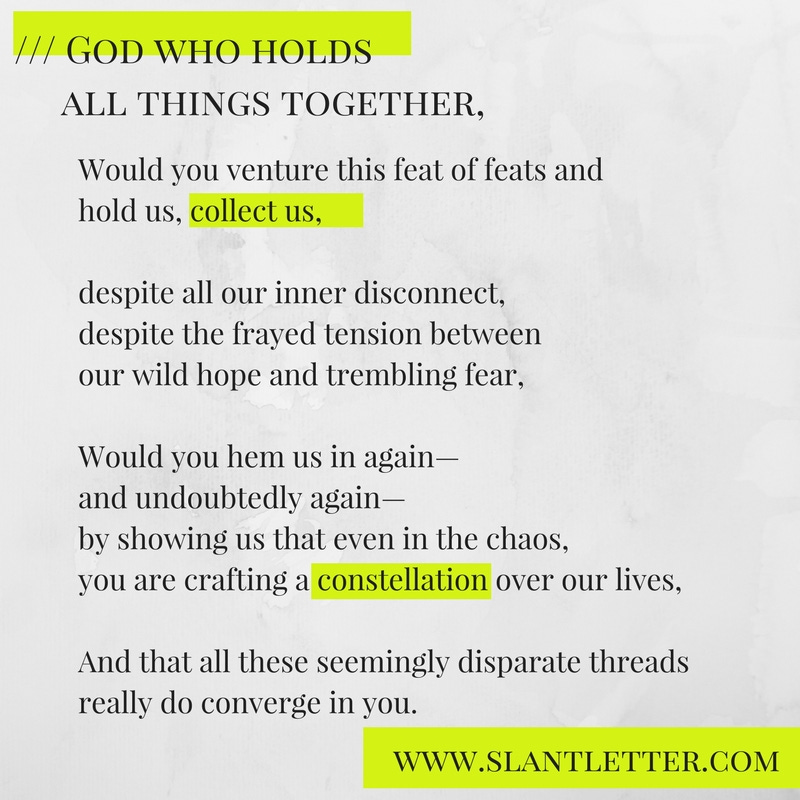 Let's Connect!


Question for you.
Find a good thing here? Pass it on! Forward this message to a writer friend
or share the subscribe link here.