Discover more from SLANT LETTER
Writing craft and soul care for the creative life for writers like you, from your friendly editor in book publishing.
Over 7,000 subscribers
SLANT LETTER: The Life-Changing Magic of Going Plural

---
The Life-Changing Magic of Going Plural
Marie Kondo has gotten our number because she understands: change ONE essential thing, and our lives entire will benefit. She understands it's all connected. If your house is in order, your LIFE will be in order—that's the bold promise of her book. Now, we could all take her to task on her mistreatment of books (couldn't we, MARIE?!) but that's another skirmish for another day.

This day, I'm not talking about KonMarie-ing your junk drawer. Today I'm talking about the life-changing magic of going plural. Because it's the one essential thing that changes everything in your writing practice.

Think with me for a moment: when was the last time you were reading and suddenly the writer not only has your number but is pulling all your strings. You're nodding, underlining, resonating, and internally affirming in the internet's first language of affirmation: "THIS!" or "YAS!" Because this person just GETS you, you know?

I am willing to bet your response is a direct result of a writer's intentional decision to shift from "I" to "we."
When a writer shifts from "MY story" to "OUR story," something magical happens.
Suddenly,
Her experience becomes a mirror for our experience.

We as the reader realize we are not alone.

We realize we're all in this together.

We are given the immense gift of recognizing our personal patterns in context of the larger human story.
C.S. Lewis famously said, "We read to know we're not alone." The poet May Sarton put it this way, "The deeper you go; the more universal you become."

In other words, great writing is defined by the life-changing magic of going plural
[tweet this]
.

If you want your writing to strike deep chords in your reader, you have to master the skill of bridging from your individual story to the universal human story in which we all share [tweet this].

Here's how it works.
The magic of writing plural is found in the difference between snapping a selfie, and holding up a mirror to your reader. One is purposed in being seen. The other is purposed in giving others the gift of more truly, fully seeing themselves [tweet this]. One is showcase; the other is invitation.

Writing in first person undeniably has its place and purpose. But in my opinion, it is best served as preamble and prologue to the main event: writing in first-person plural. Because when we lean into our common threads, we discover a shared tapestry. Chances are, the same themes that have defined my human experience have also greatly defined yours. We find we are not alone.

Let's consider a case study example.

I have no experience with midlife break-ups, yet as Lori Gottlieb writes about hers in Maybe You Should Talk to Someone, I am instantly transported from her therapy session to a mirror of my life all because of a personal pronoun shift. One moment, her therapist is dispensing words of wisdom to her in a particular scene where the author is the first-person protagonist, and the next, she's shifted into the "we" voice and I'm suddenly sitting elbow-to-elbow with her on the same couch:
"Most of us come to therapy feeling trapped—imprisoned by our own thoughts, behaviors, marriages, jobs, fears, or past...If we have a choice between believing...I'm unloveable, I'm loveable, often we choose the one that makes us feel bad. Walk around the bars. Who's stopping us but ourselves?"
Do you see that? The power of the upshift from "I" to "we"?

But it doesn't have to be memoir (catch my unpopular take on memoir here). Pick a story, any story, that has caught you by the collar lately and you'll find this I-to-we magic at work. This is where the writer-reader connection snaps electric.
So how can we channel this particular magic?

1) Identify a first-person story that carries emotional "heat"—something that scares you, daunts you, makes you come alive or keeps you up at night.

2) Identify why by tracing this "heat" back to its most primal, universal theme. Maybe your first-person story is about the birth of your first child, but the first-person plural theme is the power and joy of fighting for new beginnings. Maybe you start writing about packing up bookshelves for a move, but then you lean into the universal themes of reflecting the forces that have shaped us.

3) Craft your story in two parallel movements: micro and macro. The trick is to go "glocal": take a story that is hyper-local to your life, and set it free to travel universal.
I often advise writers to bridge from their particular story to the universal human story, and I've realized what a statement this is when we take this quite literally. The writer's task is to travel from particle to universe, from the smallest atom of being to the most expansive realm the mind can conceive [tweet this]. This is no small task! Yet the distance traveled testifies to the power of words.

The particulars of our lives look very different: demographic, psychographic, ideology, family of origin, generational markers, and more. But the overarching themes could not be more alike, in our quest for love, belonging, and meaning, and our shared battles against betrayal, loneliness, and restless emptiness.
Tug the string, and you'll find it's all connected.
Writers, perhaps more than anyone, have the tools at our fingertips to bring us back to this bright center. We possess the power to change the narrative from one person's story to our shared story.

And that is where the true magic happens.

Until next time,
Take heart. Write on. You got this.

P.S. // A Prayer for Writers
SLANT LETTER is for the craft and soul of what you do as a writer. So for each issue, I want to focus on an element of the craft as well as a prayer for all of us anxious, ambitious, internet-exhausted writing folk. I hope this will refresh you as it does for me. Pray it, print it, share it, and I hope you find some encouragement here.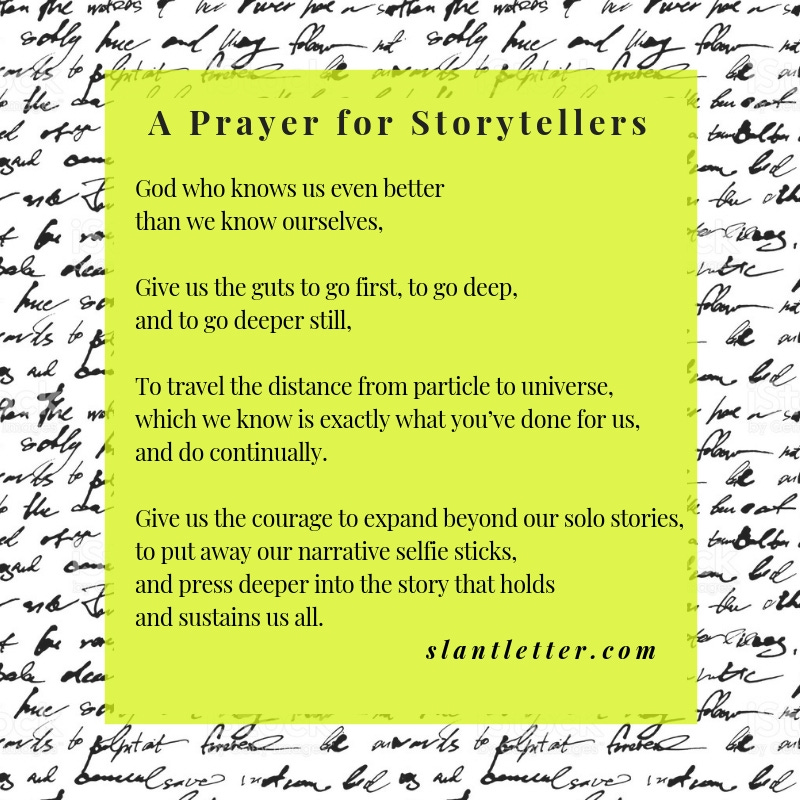 P.P.S. // Find a Good Thing Here?
This letter is this editor's off-hours labor of love. If you've found something useful here, please pass it on! You can forward this message to a writer friend, share this post, or the subscribe link here.