Discover more from SLANT LETTER
Writing craft and soul care for the creative life for writers like you, from your friendly editor in book publishing.
Over 7,000 subscribers
SLANT LETTER: My Best Message-Mapping Trick

---
When people ask me what I do and I say I'm an editor, across a nurse's desk or a coach armrest, they often take this to mean my work is in refining grammar and punctuation.

Oh friend, I do no so such thing. Believe you me, the LAST thing anyone needs is to have me messing with your dangling participles and split infinitives. I've always operated more in the realm of intuition—I have an ear for music, I can intuit harmonies, but ask me about the rules? I happily leave that to the professionals lauded and loved as copyeditors.

But I do happen to know a really good punctuation trick. Just promise me you won't tell the Chicago Manual of Style I've gone rogue :)
As it turns out, punctuation can be a stellar shortcut to mapping your message.
As a writer, your essential ask of your readers is to follow you where the message might lead. This applies whether you're working on a blog post, book, essay, or otherwise. As a reader, every single one of us wants to know: where are you taking me?

The writing task is about leading your reader in a journey of discovery [tweet this]. And if we're going to play follow-the-leader, the leader had better know where we're all headed. That's where the punctuation trick comes in.

All you need is a question, period, and exclamation point. These three symbols can provide a frame, a place to begin, a chance to one-up your blank canvas and find your compass so you can feel the edges of a thing.

Let's try it, shall we?

? // Start with a question.
The reader's journey always begins with tension. So the way to engage them is right where they are: in the middle of their pain points [tweet this]. Better yet, name them.

This is your shot to hold up a mirror to your readers experience, and . The more specific the language here, the better, because chances are your reader hasn't looked it this deeply in the eye yet. This is the service writers offer.

A thought exercise for you: what were the last three books you added to your stack? I am willing to bet you selected each one because they spoke to a specific tension, and cast the vision for a way forward. That's the invitation. Because the question is the perfect set-up for your punchline.

. // Pivot to a period.
Yet you can't stay in the tension forever, so after you've formally set the stakes, go for the uppercut. This is my all-time favorite question to ask writers: what is the boldest, gutsiest statement you have to make about your topic? [tweet this]. No reader is looking for a rehash of something they've heard a hundred times before. So don't hold back and don't go wallflower, make a stunner of a statement.

This is your chance not only to , but to demonstrate the hope that is possible beyond their question marks and pain points.

What I love about the period is that it is intentionally pointed. It's a big claim! So then the body of your work becomes backing it up: through stories, Scripture, research, supporting arguments, or any other method at hand.

! // Land on an exclamation point.
So you've named what's at stake, you've delivered your punchline, and a compelling case from pain point to progress has been made. Now what?

Truth be told, this is my favorite part. Now comes the commissioning. The reader is sold on your ideas, but they have yet to put boots on and take it for a walk into a world of their own. This is where exclamation points can help, which are delivered in two parts:
First, issue your readers a challenge!

Then be insistent in your belief that they are up for it.
One of the most potent powers of writing is that ideas have legs. Your words have muscle; they rise up off the page incarnate, word made flesh. Where do you want them to take your readers? You decide [tweet this].

So go heavy on the exclamation point to put a pep in their step. Make your outro neon, memorable, and empowering.

Viola! Just like that, you've got good bones. And you can always build on good bones.

Try it and let me know how it goes?

Until next time,
Take heart. Write on. You got this.

P.S. // A Prayer for Writers
SLANT LETTER is for the craft and soul of what you do as a writer. So for each issue, I want to focus on an element of the craft as well as a prayer for all of us anxious, ambitious, internet-exhausted writing folk. I hope this will refresh you as it does for me. Read it, print it, share it, and I hope you find some encouragement here.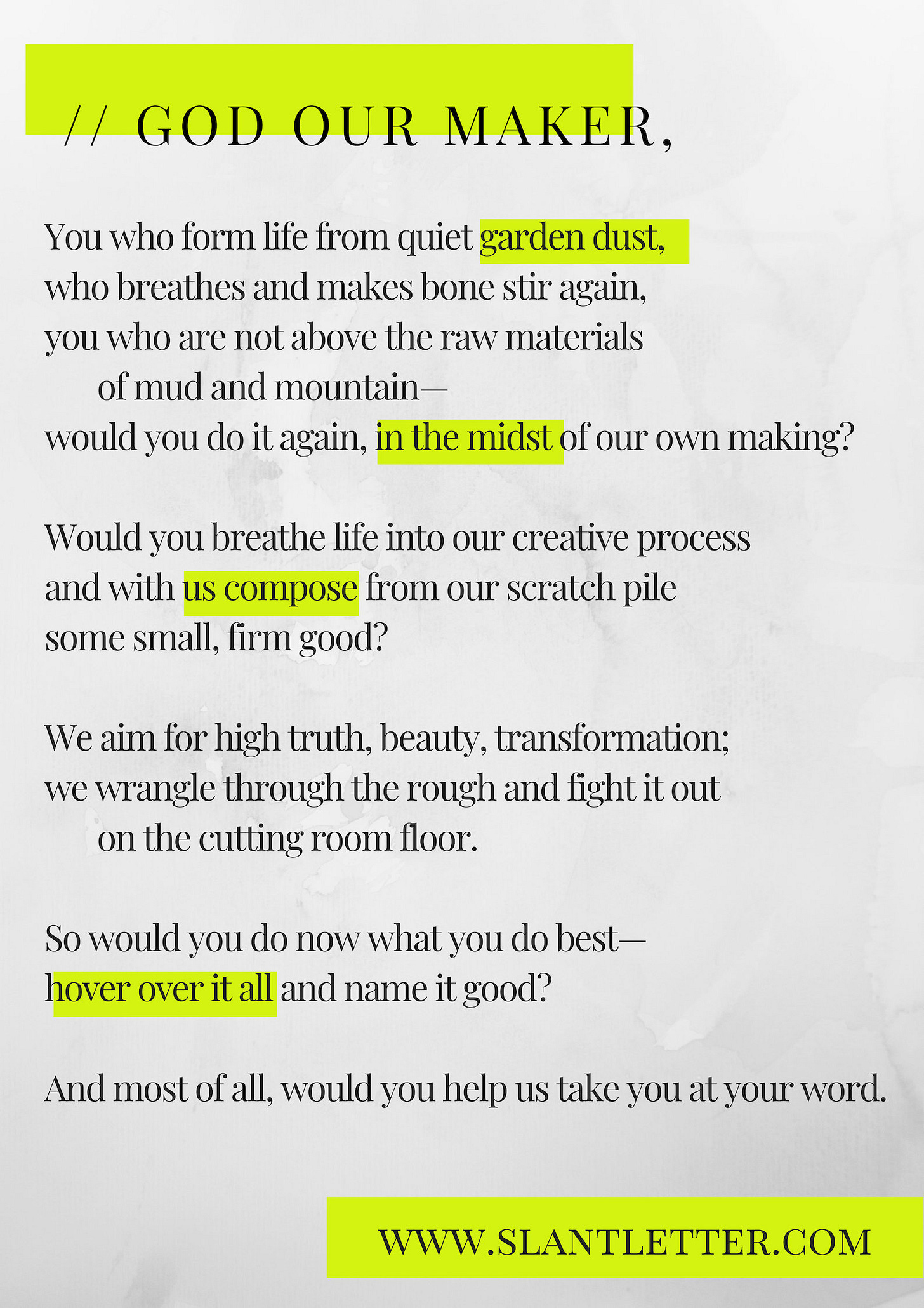 P.P.S. // Find a Good Thing Here?
This letter is this editor's off-hours labor of love. If you've found something useful here, please pass it on! You can forward this message to a writer friend, share this post, or the subscribe link here.